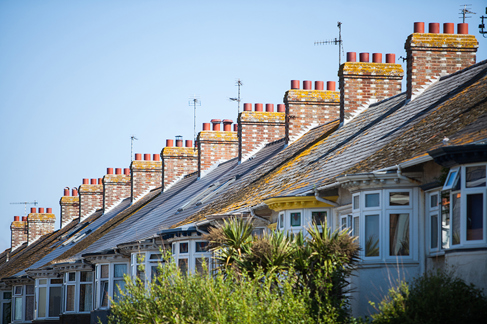 What are the issues around removing a chimney stack or chimney breast?
Are you hoping to add some space in your living room or bedroom by removing a chimney breast? Or do you want to demolish the whole structure because it's damaged and too costly to keep on repairing?
Removing a chimney can be a costly and lengthy undertaking, and because it can cause serious structural damage if done badly (it's a loadbearing structure), it should be carried out by a trusted professional who's experienced in chimney removal.
Watch this video to see what can go wrong...
The chimney breast
The chimney breast is the visible part of the chimney that you can see on every floor in your house (unless any have been removed). It provides important structural support in your home.
A building regulations application will be needed to remove a chimney breast. Your structural engineer's designs will need to be submitted to building control prior to commencing work. A Full Plans application may be better than a Building Notice because you will need to submit calculations and have them approved before you start work. (View building regulations FAQs for details).
Considerations
Other permissions may be required, for instance if you're in a listed building or a conservation area – speak to your local planning authority if you're not sure if this is the case.
Consult with a structural engineer who'll come up with a method of working and establish what support will be needed. This may require a fire-protected steel beam or the use of brackets (known as gallows brackets) but your structural engineer is the person who can advise on this.
If the chimney breast is attached to a wall between your home and another building you'll need to serve a Party Wall Notice on your neighbour before work can commence.
Any gas, plumbing or electrical appliances and services need to be isolated and changed/removed before you begin. Use an experienced and licenced professional to do this work.
The chimney stack
You may want to remove the chimney stack because it has been damaged and is leaking.
You won't need a building regulations application to just remove the stack above the roofline.
However you will need a building regulations application to remove all of the chimney stack throughout the house as the stack may support walls, floors or the roof structure.
It's a job where much can go wrong, leaving problems with ventilation, damp and even structural collapse if done incorrectly, so please be sure you employ someone experienced in the process to do it.
If a partial removal of a chimney stack is planned, ideally the stack should be reduced so that it's no more than one metre above the highest point of where it emerges from the roof, but check with your planning officer first, as you may need planning permission for this.
Where a stack forms a buttress, the wall must be checked for stability by a structural engineer.
This will apply where the chimney is a long wall without another brick wall at 90 degrees to it, other than any returning external walls. In the case of a two-storey building the wall must not exceed nine metres without a buttress, and in the case of a single storey building 12 metres.
If you have a shared stack with your neighbour the whole stack will have to be removed, therefore you'll have to be in agreement, and if it's on a party wall you'll need to serve a Party Wall Notice on your neighbour before work can commence.
The route for any flue on either side of the party wall needs to be considered by your contractor before any work starts. A shared stack should be removed carefully and the remaining party wall will need to be repaired to ensure there is no damage. If your neighbour has a flue then your contractor will need to check to ensure it's tested by a Competent Person.
You should only reduce or remove your chimney if you're absolutely sure it isn't providing ventilation or being used as a flue by any heat-producing appliance. 
Further information
Will I need building regulations approval for heating appliances?