Ask Anna
On this page, you'll find frequently asked questions about home improvement projects. If you can't find the answer you're looking for use the Ask Anna form below to submit your questions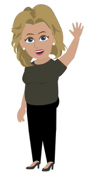 Have a building regulations query you'd like to see answered? Submit your question on the form below and Anna will answer above, or we may even write an article on the subject. We can't guarantee that every question will be answered but Anna will try her very best to get to yours.
Please note: Front Door is unable to answer questions on planning matters.
If you require a copy of your completion certificate, please ask your local council. Use the postcode search to find your local Council.