Why is ventilation important for a loft conversion?
Allowing air to circulate is easy to overlook – after all, you want to make sure your loft conversion is warm and energy-efficient.
But ventilation is important to make sure you don't get damp or condensation. Building regulations state what's needed for the roof and rooms:
Ventilating habitable rooms
A habitable room is a room like a bedroom, office or living area. Here, there needs to be:
A window with an opening equivalent to 5% or 1/20th of the room's floor area if it opens at a 30o angle or greater. This is to allow enough 'rapid ventilation'.
Background ventilation, such as trickle vents that have an 'equivalent area' of 5000mm2. These can be closed to stop drafts.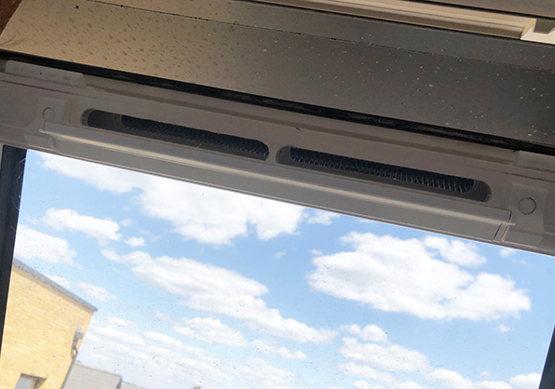 Picture showing trickle vents
Ventilating your roof
When the roof is insulated, a 50mm gap or air space needs to be left between the roofing felt and insulation.
This acts as a ventilation path, encouraging air movement and reducing condensation.
Small gaps will also need to be made in the eaves (a continuous 25mm-wide opening) and roof ridge (a continuous 5mm-wide opening), to allow air to circulate properly.
A vapour control layer can also reduce the amount of moisture reaching the roof void and insulation.
Alternatively, a breathable roofing membrane can be installed to replace the tile underlay.
Ventilating your bathroom
There are a wide variety of ways to comply with the building regulations when it comes to ventilating your bathroom.
In an ideal world, it would have both an opening window and an extractor fan but this isn't always possible.
The building regulation requirements here are designed to make sure moisture is drawn from the room, minimising the likelihood of condensation and mould forming and there are a wide range of ways to do this.
To find out if your proposed plan is likely to satisfy the building regulation requirements, speak to your building control department.
Further information
View Approved Document F - England
View Approved Document F - Wales
Do I need building regulations approval for my loft conversion?