Having a small space might not be your ideal but that doesn't mean you can't make the best of them!
There are lots of ways to make your place look more spacious and airier with carefully chosen and placed objects and accessories.
Here are 5 tips to make the best out of small spaces in your home
Planning
Make sure to plan first before making changes and investments to your home.
Always consider the less-is-more approach which is valid for everything in your home – especially if you tend to collect clutter which can really ruin the aesthetic of a home, making it look smaller than it actually is as well as being a dust-trap.
Choose the right colour or tones
Calm tones can make a room look more spacious. Plan your colour palette before you begin and use them on the full length and width of the walls for a more spacious look and feel.
However, an all-white look might look a little dull so you can add something more if you do go for white.
To make the room more interesting, you can add in accents and textures. Limit it to three materials or colours though so it looks intentional and not cluttered.
Don't forget the ceiling – it's just as important.
Go simple
Small spaces need pieces that are simple and suit the proportions of your space home. Be resourceful with your fixtures and furnishings and choose fewer items that all go well together.
Use multi-purpose furniture that contains hidden storage like an ottoman sofa or bed to hide blankets or bedding in.
Save space by going for a small but extendable dining table and maximising the use of walls by adding floating shelves. These are an amazing way to add something to your room visually and provide extra storage for items you want to have on display.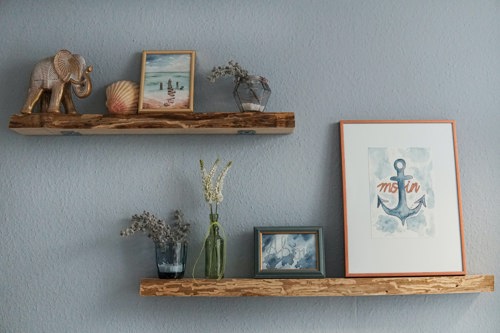 Choose a sofa with legs as it looks less bulky and more elegant if your space is small.
Another tip is to resist the urge to push all your furniture up against the walls. If you can, create space behind the furniture, it'll make the room look wider than it is.
Remember, the layout of the furniture is just as important as what you buy.
Add good lights
Good lighting is very important. Lighting will make or break any room whether big or small.
If you have small windows or a tiny space like a bathroom, investing in good lighting really helps to brighten up your space.

A mixture of table, wall, and floor lamps helps create interest without using up too much floor space.
Don't forget mirrors
Reflective objects in general give the illusion of a bigger space and more depth. Mirrors will make your space feel larger, lighter, and airier.
Very small spaces such as a bathroom, or dark spaces such as a hallway will benefit greatly from a carefully placed mirror that will reflect light and make the space not only look bigger but also better lit.
Choose a beautiful accent mirror piece to add personality, or a floor-length mirror for your living room for that little something extra.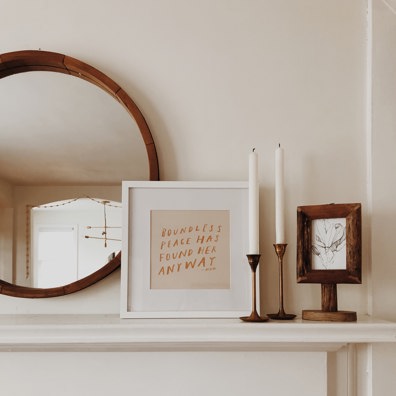 Small spaces can be fun and with the right planning and placement of your furniture and accessories, you can inject a lot of personality without compromising your space.