If you have a garden and you're stuck for ideas about how to make it look better, or restricted on time and money, here are some helpful tips to get you started – and none of them require Building Regulations approval!
9 ways to spruce up your garden and make it more welcoming
1. Spring clean
The easiest and the most affordable project is to spring clean your outside space. Having a clean and organised garden will show you what needs doing and give you inspiration for other projects. Sometimes, all you need to do is to declutter your space.
Declutter any surplus or broken items and make or buy some outdoor storage to keep your tools, toys and accessories clean and dry. Borrow or hire a pressure washer to clean up hard surfaces, trim hedge and shrubs, dig up any weeds and mow the lawn.
It is very satisfying to spring clean and start afresh!
2. Add more flowers
Adding colour for spring and summer will make a significant difference in your garden.
Flowers are a wonderful way to have more colour in your garden and to brighten up dull spaces. They are also great for encouraging bees, butterflies and other wildlife.
Choose plants and flowers that work for you and your lifestyle: if you don't have much time for gardening, choose colourful evergreen shrubs and perennial flowers which come back every year and require less maintenance. If you love spending time pottering, you might prefer annuals which only live for one season but are easy to grow from seed or to buy in as small plants.
If real flowers are too high maintenance for you, you can also opt for faux ones as a way to add colour without the hassle but we'd always encourage you to use real ones to reduce plastic usage and help our bee population.
3. Grow some herbs and other edible plants
Plant herbs, fruits, and vegetables. You don't necessarily need a lot of space for a small herb garden, and you can grow trailing tomatoes in hanging baskets or pots. Eating your own home-grown produce is so satisfying and it always tastes better.
Why not try some chives, parsley, or chillies? Grow mint in a pot though or it will take over your flower beds.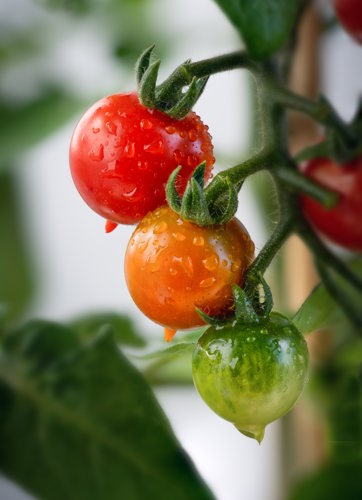 4. Use plant pots
Those herbs and plants will need a home! If you don't want to dig out flower beds, or you're worried you might not want to leave plants behind if you move, use pots and planters. You can either opt for colourful pots or something more minimal and earthy toned basket style pots – both will be a fantastic addition to elevating your garden. Make sure ceramic pots are sold as 'frost proof' unless you have room to bring them indoors in winter, as they can shatter in freezing weather.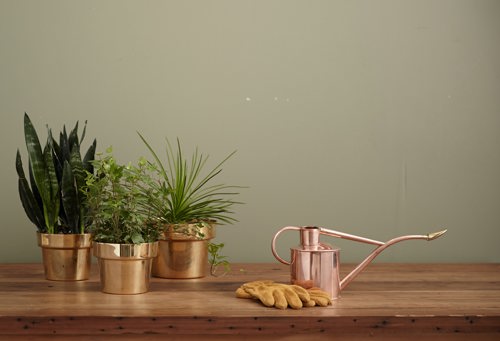 5. Try a ladder shelf
If space is limited, think vertically. Grow climbers like clematis or honeysuckle, hang pots from fences or use other quirky solutions. Ladder shelves are great to keep organised and have your potted plants on display.
You can buy a new one or utilise an old stepladder that you may already have. You can either keep it looking rustic or paint it to give it a new fresh look. Lean it against a fence (and preferably secure it in case of strong winds) and then decorate it with your plant pots.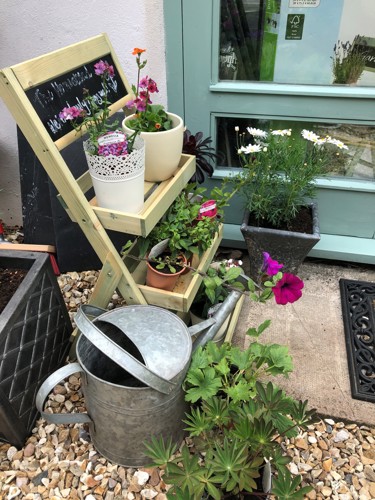 6. Add lights
Fairy lights or lanterns will give your garden a soft and cosy feel in the evenings. Sit under the soft lights with a cup of tea, or a glass of wine and enjoy your new space.
Make sure you get outdoor waterproof lights and think about solar lights to reduce running costs and save energy.
7. Plan a relaxation area
Whether your space is big or small, you can still add in a small table with couple of chairs or an outdoor bench. Add some cushions and rugs and create a stylish area to relax in this spring and summer so you can host gatherings or make your relaxation area a tranquil and serene place to eat in or enjoy as your quiet reading spot.
If you don't have winter storage space, invest in water and weatherproof furniture or use covers.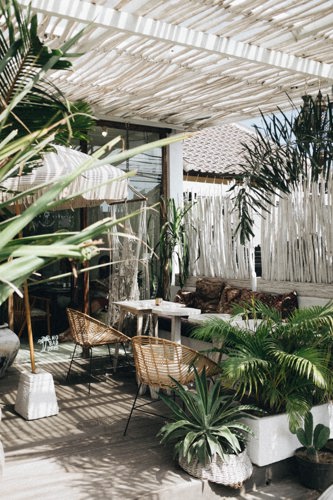 8. Create a water feature
Just the smallest water feature or fountain can really help your garden to feel tranquil. You might choose a solar fountain in an old barrel, a waterfall from one pot to another or even a small fishpond. Ponds are another wonderful way to encourage wildlife like frogs, newts and insects but make sure they are safe for young children.
9. Look after your lawn
In summer, a weekly trim, and a quick tidy up around the edges will help keep your garden looking lush. Remember to feed your grass regularly and dig out weeds (unless you love dandelions as much as the bees do). Or think about planting a low-maintenance chamomile lawn for a beautiful smell and less hard work.
Keep on top of maintenance, plant a few showstoppers, and then sit back and enjoy your beautiful space, whether it's a patio or a park – gardening is good for the soul as well as great exercise.
If you are after more garden projects, check out these articles.