Part H of the building regulations controls drainage and pipework. Drainage that doesn't work properly can cause waste water and effluent to enter the living areas of your home, causing serious health consequences as well as flooding.
It can also result in flooding and pollution outside your home.
Waste pipes and traps also need to be properly sized and specified to ensure that any waste traps (water seals) aren't pulled or siphoned out by using appliances which allow foul drainage smells from the sewer to permeate the room.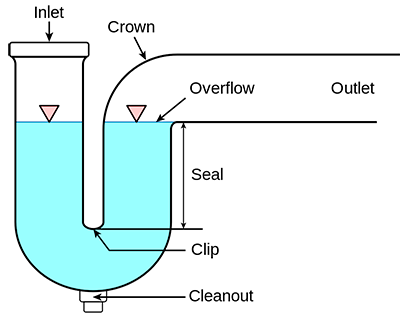 When does kitchen drainage need building regulations approval?
If you're relocating kitchen appliances like sinks, dishwashers or washing machines by more than a few cm, making changes to connections or installing new pipes you'll probably need building regulations approval.
You definitely need building regulations approval for a completely new kitchen in a new part of the house or a new utility room.
What do the building regulations cover on kitchen drainage?
The drainage from your kitchen has to be installed correctly to carry waste water from your sink, dishwasher, waste disposal unit or washing machine to either a public or private sewer, treatment plant, septic tank or cesspool.
Any new soil and vent pipe (the vertical pipe connecting the new kitchen fittings to the drains) has to be adequately vented at least 900mm above any openings within 3m unless you install an air-admittance valve on an internal stub stack.
Correct installation will mean that foul (bad) air from the drainage system is prevented from entering your home. The pipework also needs to be accessible to clear blockages with a rodding eye at every change in direction as well as accessible and removable traps.
The pipework must be air tight and at the correct gradient or fall so that waste water can drain properly and the materials and workmanship should be of a decent standard. The pipes also need to be the right diameter for your water flow, and everything should fit together properly.
All of these reasons mean that you should consider employing a qualified plumber to carry out this work for you.
If you use a Competent Person they can self-certify the work that comes under the scope of the building regulations. Otherwise you'll need to make a building regulations application.
Further information
Do I need building regulations approval for my kitchen?
Approved Document H England: Drainage and waste disposal