As well as becoming more important as our climate changes, saving water will help save you money. Here are some practical tips on saving water in your bathroom as well as things to think about if you're installing a brand new bathroom or replacing an old one.
1. Fit a shower head that reduces water output.
2. Install a gravity-fed shower rather than a power shower.
3. Install a shower with an in-built flow limiter.
4. Fit a smart shower which allows you to control the flow and duration from your phone. (You'll also be able to set your temperature.)
5. Try to keep your showers under five minutes (a 5-minute gravity-fed shower uses approximately 35 litres of water and it's twice that volume for five minutes in a power shower.)
6. Taking a shower rather than have a bath can save water but that depends on how long your shower normally takes, whether or not you use a power shower. As above, take shorter showers and/or reduce the amount of water in your bath so that it just covers you.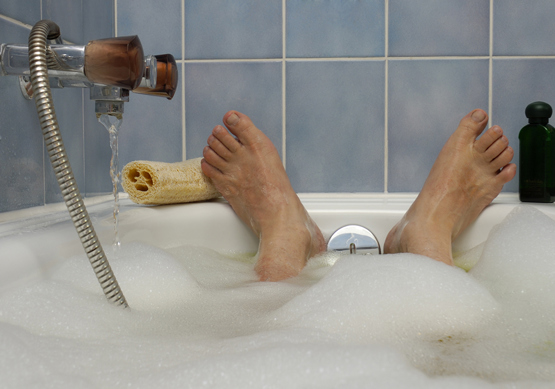 Don't fill your bath to the brim!
7. Check the water temperature as the bath fills rather than filling with lots of hot water then having to top up with cold.
8. Consider installing a grey water system that recycles the waste water from your shower, bath and basin.
9. Install a high efficiency toilet (HET), for example one with a dual flush.
10. Install a low flow toilet that uses less water per flush than a standard toilet.
11. Install a cistern displacement device in an existing toilet – this reduces the water used in a flush by between one to three litres.
12. Install tap aerators which increases the water pressure while reducing the amount of water coming from your tap.
13. Check for leaks in your toilet – you'll be able to spot this if you hear water flowing after your toilet has stopped flushing, or if there's a constant trickle of water at the back of your toilet.
14. Fix tap leaks as quickly as you can. They can waste up to 60 litres a day.
15. Turn off the tap when you're brushing your teeth and use a plug to keep the water in when you're shaving.