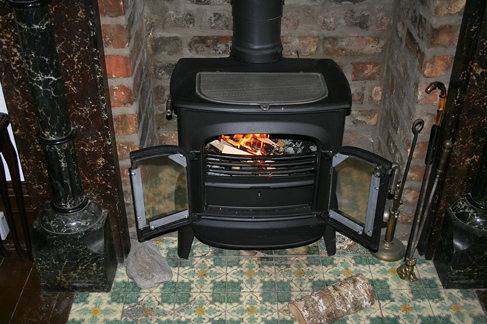 What are the issues around heating appliances, chimneys & flues?
The building regulations requirements
All stove installations are covered by building regulations. You can find all the technical requirements in Approved Document J - Combustion Appliances and Fuel Storage systems (links to the English and Welsh documents further down the page).
Any work that affects an existing chimney (i.e. fitting a new stove or liner) or creating a new chimney now comes under building control unless it is carried out by a Competent Person registered with HETAS.
Chimneys and flues
All wood burning and multi-fuel stoves require a Class 1 chimney. You may be able to use your existing chimney but you must have it checked for air tightness and to make sure it's the right diameter and position for the appliance you want to have installed.
You'll also need to have the flue swept and carry out a smoke test to check for gas tightness to prevent fumes entering your home.
It may be possible to have your chimney relined, such as with a Class 1 904/904 grade stainless steel liner.
It's really important to check that your flue is not too close to combustible elements like floor or roof joists as this could cause a fire. Any single skin flue pipe must not come closer to a combustible element than three times its diameter e.g. for a 6" or 150mm pipe it needs to be a minimum of 18" or 450mm away. You may be able to reduce this distance to 50mm if you install a twin wall insulated flue.
The height of the flue or chimney is critical and your flue must comply with the building regulations.
If your chimney or flue isn't high enough in relation to the roof you will not get a good draw on the chimney. Flue gases must be able to flow freely from the chimney to avoid any risks to the property or the occupants.
A chimney which is too low could suffer from downdraught problem (when the smoke is pushed back down the chimney) resulting in flue gases not escaping freely and causing problems.
If your flue exits through the roof within 600mm of the highest point of the roof, it must be 600m higher than the top of the roof or ridge.
If it will be lower down the roof level and more than 600mm from the highest point of the roof you must extend the chimney up a minimum of one metre and until you clear the highest point or are at least 2.3m away horizontally from the roof covering.
Freestanding stoves
If you are planning to install a stove into a room with no chimney or fireplace then you must ensure that your hearth is at least 840mm x 840mm.
Gas boiler replacement
When replacing or installing new boilers they are required to be high efficiency condensing types under the building regulations. The only exception to fitting this type of boiler is when your approved installer considers that the position of the condensing boiler is exceptionally problematic. Your installer should be able to advise you about these requirements.
Hearths
The design of your hearth is also important; the heat from the stove must not be allowed to cause a fire and it should be big enough so that burning fuel that spills out will land on a fireproof surface.
A stove must stand on a non-combustible hearth extending a minimum of 225mm in front and 150mm out from the stove at the sides. If the hearth is built on a combustible floor like a timber floor the hearth must be at least 250mm thick unless your stove has been designed and tested to have a hearth temperature not exceeding 100 degrees centigrade, in which case a 12mm hearth can be used. If your stove is designed to run with the doors open then you must have a hearth extending at least 300mm in front of the stove.
If you are installing the hearth onto a non-combustible floor like a concrete floor then the overall thickness can be 250mm. So if the non-combustible floor is 100mm of concrete then you need a slate hearth of 150mm to make up the 250mm required.
Notice plate
Once your new appliance is fitted you will need to install a permanent notice or plate in an appropriate position giving details of the location of the fireplace, the type and size of the flue and type of heating appliance used.
Ventilation
Stoves use air from within the room for combustion. Any solid fuel stove which has an output higher than 5kW requires a permanently open vent with a cross sectional area of at least 550² mm for every kW above 5kW. This vent must be non-adjustable and should be installed in a position that will not tempt you to block the air vent up to stop noise and draughts.
If your house was built in 1992 or later you will require an air vent regardless of the output of the stove, because homes have become more and more insulated and less draughty so you need to supply replacement air into the room.
Air vents should not normally be installed in the actual fireplace recess unless specified by your specialist installer. If you use a mesh or other type of guard to stop pests like vermin getting into the house, this must be no smaller than 5mm. You can install a permanent air vent anywhere in the room as long as it is connected directly to the outside.